'2 to 3 years for economy to recover'
'It was like a doctor giving some simple pain killers to a patient in dire requirement of chemotherapy.'
'There was no sense of urgency or desperation in this particular Budget.'
In the first part of his must read interview with Shobha Warrier/Rediff.com, chartered accountant and lawyer M R Venkatesh explained why the 2020-2021 Budget's tax plans were a "laughing matter". Instead of simplifying the tax structure, Venkatesh argued, the finance minister had merely complicated it.
Part 1: 'Budget's tax rates are a laughing matter'
"If somebody thinks some magic wand will pull the economy into action in another 15 or 20 weeks, no, it is not going to happen," says Venkatesh in the concluding segment of the interview:
So, the income tax charter, the simplified tax reforms, etc will not have any effect ultimately?
All these are motherhood statements. Like the Preamble of the Constitution, it has no value.
Are you impressed by the projects the finance minister has announced for the rural economy like solar panels in arid areas, addressing the issue of water, etc?
You mean these things are mentioned in a Budget for the first time?
These are all welcome, but if you go back to the Budgets of 10 or 15 years back, you will see the same things being mentioned. Let me take the water project, if I remember correctly it was there in the Chidambaram Budget of 2005. All these things are recycled by babudom.
I am not enamoured of these announcements.
Did this Budget remind you of the slogan P Chidambaram used in 2004, 'Reforms with a human face'?
Yes… yes… That's why I am saying the phraseology may change, but the ideas are one and the same.
If you read the Budgets from 1990 onwards, you will see that all these ideas are there, rehashed, re-cycled and re-presented.
We have been hearing about wastage of horticulture products, need to develop cold storages, oil seeds production on mission mode, pulses on this mode.. that mode…
Why is it that we are hearing the same ideas from the time the economy was liberalised? But nothing has changed on the ground…
Unless they come with a fresh mind and question what was done before and start preparing the Budget de novo, nothing will change. Here, the same babudom is asked to prepare and they rehash the same ideas and the finance minister happily reads it.
A Budget speech shouldn't be more than 20 minutes and here, she spoke for 160 minutes.
We have heard this so many times from so many people. You should tell us broadly what is your allocation, and end it. She said security is her priority and quoted Thiruvalluvar. But did she speak anything about the defence budget?
Everybody has been clamouring for government spending for the economy to kickstart, but the infrastructure projects she has announced are all in the PPP model. Do you feel no kickstart will happen?
It will neither kick nor start!
But I do hope the Rs 100 crore infrastructure pipeline will do something positive for the economy.
Does that mean the economy will be in slumber for some more time?
Yes. It is going to be a long, drawn-out, process for us.
If somebody thinks some magic wand will pull the economy into action in another 15 or 20 weeks, no, it is not going to happen. I see 2 to 3 years for the economy to recover.
For example, you have the same set of people in the banking sector. Without improving the bank administration and board, do you expect any changes to happen in the banking sector?
They have handed out Rs 3 lakh crores, our money, the taxpayers's money to the banking sector. Who is accountable? Nobody.
Recapitalisation is daylight robbery. That's why I will say there is a raw deal for the middle class in this Budget.
Those who want to cheat will continue to cheat and get away with it.
You spent Rs 3 lakh cores as recapitalisation. But have you punished at least one person who cheated the banks?
If you punished at least 100 people who had cheated the banks, the taxpayer would have been happy. But nothing has happened to all those who have cheated the banks. They just put one or two poor bank clerks and officers behind bars.
It seems the government's GST collection target was Rs 6.63 lakh crores, but they could manage only Rs 3.28 lakh crores…
Every time I hear the words, simplification of GST forms I shudder. What's simplification for bureaucracy is complication for the tax payer. Instead of simplifying, they end up complicating the whole thing.
Unless the finance minister herself files a GST form, she will never know the pain of uploading a GST form.
She said repeatedly that wealth creators will not be harassed. Will this really happen?
Anything to do with the government, from getting a PAN card to something serious like meeting a regulator or an IAS officer, you will end up regretting your decision.
The rich shudder the IAS, the middle class shudder the IRS and the poor shudder the IPS! There is a very clear demarcation.
Unless babudom is reformed all this talk about reforms and wealth creation is useless.
So, it is not reforms with a human face?
Reforms with a babu's face is not reforms. It is primarily hoodwinking people.
Whatever assurance they give about wealth creators, the law asks and mocks us, how can the wealthy be there in India? The attitude of the bureaucracy is that if this fellow is creating wealth, he must be breaking the law.
So, there is always a Tom and Jerry game out there, and the bureaucracy is having the last laugh. They will never allow wealth to be created in India.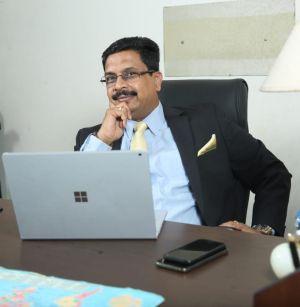 The MSME and the rural sectors relied on the cash economy for many, many years. Is there anything wrong in being a cash economy?
There is nothing wrong in being a cash economy. In the rural areas where there is not connectivity, you have to be a cash economy.
But MSMEs are there in urban and semi-urban areas. The problem the MSME sector faces is the credit growth is abysmal. Banks are unwilling to lend to MSMEs.
Today the bankers are reluctant to lend to them because they fear that if anything goes wrong, they will be punished. You don't understand banking is an industry where there is an inherent business risk.
You don't see a revival of the MSME sector soon?
I don't see a revival happening because nothing has been done on labour laws, bank credit is not going to come and PSUs are going to continue to bleed.
You are going to see huge number of closures especially in the textile sector. Bangladesh has beaten us black and blue in textile exports. I don't know why we have a textile ministry when Bangladesh has overtaken us.
So, India becoming a $5 trillion economy…
India will become a $5 trillion economy despite the government and its babudom.
When we get there is the question; it may be 2027 or 2028. But when we get there, it will be despite the government and not because of the government.
Last year, you called the Budget a vision document. How do you describe this Budget?
This is a school teacher teaching us multiplication tables, repeating everything 2-3 times and telling us, this is very important!
She reminded me of my mathematics teacher. It was not befitting an economy that is $3 trillion and having a vision of $5 trillion.
Why did the Sensex tank almost 1000 points?
The Budget has to give a feel-good factor.
From her body language, from her speech, from her politics, from her words, from her ideas, the finance minister has to give the impression that you are heading towards a $5 trillion economy.
She should be able to convey the message that the economic slowdown is a temporary setback and there is nothing to worry.
Instead, it was like a doctor giving some simple pain killers to a patient in dire requirement of chemotherapy.
There was no sense of urgency or desperation in this particular Budget.
Is it because they do not want to admit that there is a problem?
Yes, there is a sense of denial even today.
Her speech reflects the denial mode. It is not that all is lost.
We are still growing at 5%. Yes, we should have been growing at 8%.
Source: Read Full Article