Has Nirmalaji's tax plan made India CAs mukt?
If the finance minister's tax proposals have stimulated demand at all, it's for CAs, notes Kanika Datta.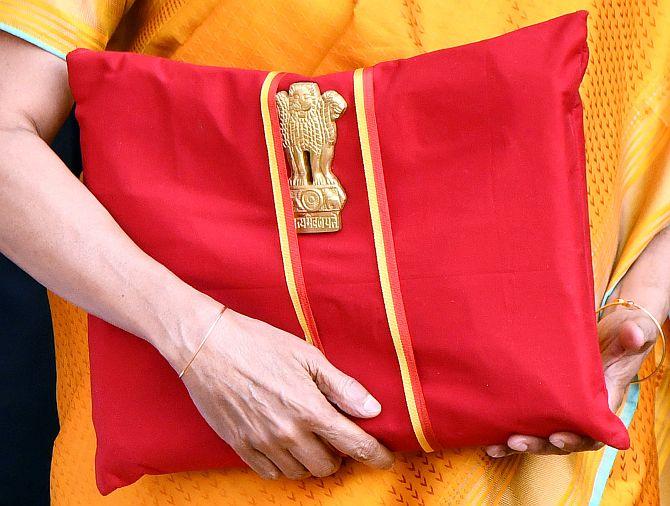 In the space of three days, two significant speeches were delivered, one in the world's largest democracy and the other in the world's most powerful one.
Both took place against the backdrop of heightened political challenges for the incumbent government.
Both will be remembered for reasons other than the content of the speeches.
And both point to a depressing decline in the standards of public oratory.
The first by Finance Minister Nirmala Sitharaman presenting the second Budget of Narendra Damodardas Modi's second term when economic growth has dwindled was a record two hours and 43 minutes long, would have been longer had the deliverer not taken ill, and was notable for one thing: It failed expectations all round.
Three oceans away, the impeached US President Donald Trump took 78 minutes to deliver the final State of the Union of his first term, marginally shorter than his 82 minute 2019 harangue.
The duration of SOTU 2020 took in over 100 interruptions for applause (from Republicans only) and some orchestrated reality TV moments (an Afghanistan veteran's 'surprise' return to his wife and children).
But Mr Trump's calculated theatrics, including the studious non-mention of impeachment, came to nothing.
It was a fuming Nancy Pelosi, dressed in her trademark suffragette-white pantsuit, who stole the show by conspicuously tearing up her copy of the speech on the podium behind the president.
That's what you get for dissing Pelosi by ignoring her handshake.
No one dissed Ms Sitharaman, with many Opposition MPs swarming around her in concern as she faded out with two pages to read.
And she certainly did her best to deliver a stirring message.
Wearing a stunning gold-yellow sari, she quoted, within the hour, an excerpt from a Kashmiri poem (adroitly avoiding the poet's Urdu nom-de plume, as my colleague Aditi Phadnis pointed out), one saying from a 'wise old Tamil Woman Saint Poet' and a Kural or Tamil sacred verse.
She even managed to throw in Kalidasa in the business end of the speech, universally known as Part B, which covers the tax proposals.
Each literary reference was explained, painstakingly, each proposal and achievement repeated at least twice.
But if there was an overarching significance to this hard-working hard-sell it was lost on her exasperated auditors.
The finance minister's school elocution-contest cadences bears a good part of the responsibility for the aching boredom.
But TV failed us too.
The Congress has chosen to absent itself so the Doordarshan camera people had few options to offer the watching public.
They couldn't pan out for long shots because that would have revealed the yawning gaps on the Opposition front benches.
In Budgets past, it was possible to take a break from ministerial intonations about helping farmers, poor, women, lower castes and other worthy tokenism with some minor distractions.
Sonia Gandhi's unerring taste in saris, for example. Her son's struggles to look intelligent.
The thickness of the late Sushma Swaraj's hair despite the Formula 1 track of sindoor. The sadhus and sadhvis. Turbans and hats. Yawning backbenchers.
The constant procession of transcribers and translators under the Speaker's platform.
This time, apart from Ms Sitharaman's emphatic and interminable repetitions, we were treated, mostly, to close-ups of the prime minister's expressionless face.
About an hour in and the going got tough for those of us at the coalface of the Budget speech.
Economic journalist Puja Mehra tweeted that the Budget was certainly stimulating coffee consumption.
An hour later, even multiple caffeine fixes failed.
By the time Part B came round, the flagging pens and empty notebooks were marshalled wearily, but the minor excitement over the income tax reconfiguration soon descended into confusion (which continues today).
The finance minister said she was offering chartered accountant-mukt tax proposals.
If her tax proposals have stimulated demand at all, it's for CAs.
Successive finance ministers have chosen to make an annual report on the state of the Union's finances into the equivalent of a SOTU because, like the latter, it enjoys a captive audience.
But SOTU is recognised as a political progress report that the country's chief executive delivers to the US congress (interestingly, its rules stipulate that each address must contain a Budget message).
This year, the US fact-checkers's toothcomb discovered more misleading statements in Mr Trump's SOTU rather than the outright whoppers of earlier speeches (though he didn't disappoint on that front either).
Ms Sitharaman's problem is that the many documents that accompany every Budget will offer grist for the sceptics's mill for much longer.
Manmohan Singh said the Budget was so long he could not absorb anything (it is unclear if the taciturn former finance minister and prime minister was making a joke).
But rest assured, despite nearly three hours of rhetoric, it is the numbers that will, ultimately, speak for themselves.
Source: Read Full Article