MFs plan to launch a slew of FMPs as bond yields increase
An additional factor spurring the FMP launches is MFs' desire to retain investors as many such offerings are set to mature over the next two months.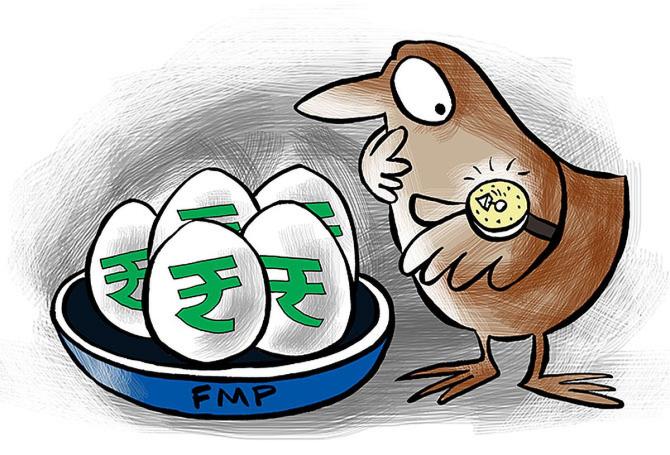 Mutual funds (MFs) are planning to launch a slew of fixed maturity plans (FMPs) as they look to cash in on the rise in bond yields.
Fund houses like Nippon Life India MF, Kotak MF, Aditya Birla Sun Life MF, among others, have filed offer documents with Securities and Exchange Board of India (Sebi) to launch these popular close-ended debt schemes.
This comes as yield on 10-year government securities has surpassed 6.2 per cent, from about 5.8-5.9 per cent at the beginning of 2021.
Similarly, the yield of the 10-year AAA PSU paper has risen over 60 basis points (bps) to 7.2 per cent.
An additional factor spurring the FMP launches is MFs' desire to retain investors as many such offerings are set to mature over the next two months.
In the last 2-3 years, FMPs have lost some appeal, following a spate of credit events.
However, investors might look at such products with the improvement in the overall economy.
Arun Sundaresan, head of product management at Nippon Life India Asset Management, says FMPs are simple products and are similar to fixed deposits (FDs).
FMP is a fixed-tenure MF scheme that invests its corpus in debt instruments maturing in line with the tenure of the scheme.
The tenure of an FMP can vary from a few months to a few years.
"After the IL&FS crisis and subsequent credit crises, investors lost confidence in some of the debt fund categories, including FMPs.
"Investors did not want to lock-in their money, as things were uncertain. But sentiment has improved, and FMPs would make a comeback," added Sundaresan.
Data from the Association of Mutual Funds in India (Amfi) shows that net asset under management (AUM) of fixed-term plans stood at Rs 1.19 trillion as of February.
Typically, fund houses launch FMPs for little over three years to get the benefits of indexation.
Industry officials also say that new FMP launches will appeal to investors as yields have inched up for three-year AAA-rated corporate papers.
"It may not be possible to predict interest rate movements to perfection or time the market.
"But given the surge in yields in the past few months, it may be appropriate to look at FMPs.
"FMPs help lock in the current, possibly high yields, and offer visibility of returns as FMPs buy and hold the underlying papers till maturity," says Sundaresan.
Returns for some FMPs maturing now have been lacklustre.
Recently, Aditya Birla Sun Life Mutual Fund decided to extend the maturity of a few of its fixed-term plans.
It said: "Owing to low yields on offer to investors, it will be prudent for existing investors to make maximum use of the indexation benefit and opt for extending their investments."
Given the recent experience, some investors may be averse to FMPs, say financial planners.
They believe investors are better off investing in an open-ended debt scheme and should avoid locking-in money in FMPs.
Source: Read Full Article