'Our partnership with BharatPe is firm and good'
'Banking is a business of trust.'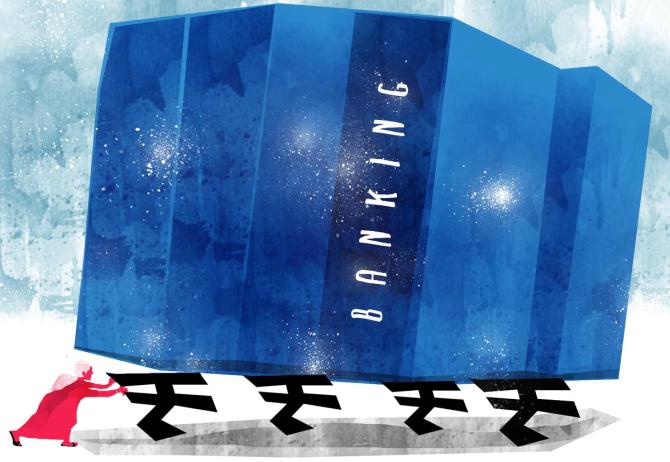 Ashneer Grover, co-founder and managing director of fintech BharatPe, valued at least $3 billion, has taken voluntary leave of absence till March.
BharatPe's work culture has often been the talk of the town, but the immediate provocation for Grover going on leave is the storm in the media created by his not-so-polite conversation with an employee of a merchant bank, fuming for being denied allocation at a recent initial public offering.
'After much deliberation, I plan to take a temporary leave of absence from BharatPe till March end. I will return on or before April 1, 2022,' Grover said in a statement.
He will utilise this time to 'rejuvenate' and 'refresh' himself.
'I expect to spend the time thinking more deeply about our next phase of product development and BharatPe's path to profitability and IPO,' he said.
'I will also double down on investing in myself personally.'
Resilient Innovations Pvt Ltd (RIPL), BharatPe's parent, holds 49 per cent in India's newest small finance bank — Unity Small Finance Bank.
The Reserve Bank of India issued the final licence to the bank in October.
The plan is to position Unity SFB as a unique digital bank and BharatPe's role is significant for this purpose.
Will the recent development have a bearing on the future of the bank? Does Grover fulfil RBI's so-called fit and proper criterion to own a bank?
Breaking his silence, Jaspal Bindra, bottom, chairman of Centrum Capital Ltd, promoter of Unity SFB, in his first media interview ever since the controversy surrounding Grover hit the headlines, tells Business Standard Consulting Editor Tamal Bandyopadhyay, it is business as usual for the bank.
It will be run by professionals and managed by its board.
Also, Bindra will not don any executive role in the bank's management.
Thanks for agreeing to talk to me, Jaspal.
On October 12, when the RBI granted you the small finance bank licence, there were all-round celebrations. Since then, things have changed.
First, in November, the RBI released a draft scheme for the amalgamation of Punjab and Maharashtra Cooperative Bank and your bank, Unity SFB. Going by it, the depositors of PMC will get their money back over a period of three to 10 years in stages. Besides, the interest on deposits shall not accrue after March 31, 2021. These have not gone down well with the PMC depositors.
And now, Ashneer Grover, co-founder and managing director, BharatPe, is in the news for the wrong reasons. Are you sleeping well?
We at Centrum are delighted to have been granted the banking licence, the first in six years.
I cannot lose sleep over the two issues you mention only because in neither case are we in a position to resolve the matter.
The PMC amalgamation scheme is in the hands of the government to finalise and the other episode has to be dealt with by RIPL's board and co-founder.
Grover has gone on leave till March end. Was it voluntary or under pressure from the board and investors?
It is the company's internal matter.
I am not qualified to answer this question.
It seems that the leave is for the media dust to settle. This means, once he is back, it will be business as usual. Is that good for the bank's image?
Again, it's a hypothetical question.
It's not appropriate for me to talk about this at this point.
What actions are you taking to insulate the bank from the Grover episode?
What do you expect me to say?
A consortium of Centrum Financial Services Ltd and RIPL, BharatPe's parent, has got the licence. You are almost an equal partner — Centrum Financial Services holding 50.1 per cent and BharatPe 49.9 per cent.
After the latest development, does BharatPe meet the fit and proper criterion of the RBI to own a bank? Has it become a liability for you?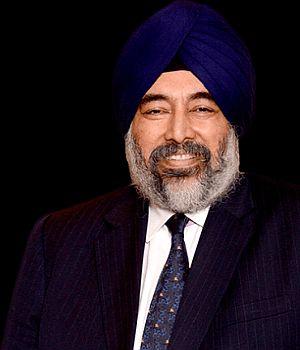 RIPL (BharatPe) is foreign company-owned and controlled by large and reputed global funds.
Centrum and RIPL have an institutional partnership with a common objective to achieve sustained profitable growth at Unity SFB.
We are pleased to see that RIPL's board has initiated steps to address the issues related to its co-founder.
Your information on shareholding patterns is not exactly correct. The split is 51 per cent and 49 per cent, respectively, between Centrum and RIPL.
Excuse my ignorance, Jaspal. Is BharatPe a promoter of the bank? Except for one old private bank, no investor alone has been allowed to hold close to a 49 per cent stake in a bank? What's the status of BharatPe?
As I have already said, RIPL (Bharat Pe) holds 49 per cent of the equity capital in Unity SFB.
Centrum with 51 per cent is the sole promoter.
RIPL is not a promoter, it's a joint investor.
You just got former Comptroller and Auditor General Vinod Rai as chairman of the bank. Congratulations. Who will be the managing director and CEO? You?
As promoters we feel privileged to have Vinod Rai as the first chairman of Unity Bank.
His distinguished career in the Indian Administrative Service and as Comptroller Auditor General and experience across several boards and forums give Unity SFB an excellent leader to lay the foundations of good governance.
I will not be MD and CEO.
Probably it's Jaspal Bindra's credibility that has convinced the regulator about getting the banking licence. Why aren't you interested in an executive role?
It has been 25 years since I first played the role of CEO in India.
You will agree Tamal that a lot has changed since then.
I have other board engagements and Unity SFB will be better served by a full-time executive.
However, I am always willing to join the Unity SFB board if invited.
Will Grover be on the bank's board?
The Unity SFB board today consists only independent directors and no one — I repeat, no one — from either Centrum or RIPL.
The shareholders are entitled to have representations on the board, but the majority of the directors will be independent.
It is the Unity SFB board that will decide the appointments of directors and members of various committees of the board.
Grover's statement is that he will utilise this time to 'rejuvenate' and 'refresh' himself. 'I expect to spend the time thinking more deeply about our next phase of product development and BharatPe's path to profitability and IPO'. 'I will also double down on investing in myself personally.'
Clearly, he will be an integral part of the team that will run the bank if not alone?
I cannot talk on his behalf.
If Grover is not allowed to return/does not return, who will represent BharatPe on the board?
Again, it's their internal matter.
The market perception is that the employees of BharatPe are a divided house — pro-Grover and anti-Grover.
If you are hearing this from the 'market', you are welcome to probe.
Are you in touch with the investors in BharatPe — Sequoia, Coatue, Ribbit, Grace Software Holding, and Beenext? What are they saying?
I'm afraid, I won't comment on this.
Also many in the financial sector believe that it is not Jaspal but Grover who calls the shots in the bank. Your comment.
Centrum and RIPL agreed from the start that Unity SFB would be professionally managed and run by its board.
It will have its own management team, own physical and technology infrastructure, a unique brand and business strategy.
The question of any one person running the show is neither true nor envisaged.
You can rest assured on this.
Centrum is the promoter and it is based in Mumbai. Why is the bank headquartered in Delhi?
Unity SFB will be headquartered in Mumbai.
We have already rented four floors near BKC (Bandra Kurla Complex), exclusively for the head office and all the management team will operate out of there.
We have chosen the registered office to be in Delhi in line with most financial institutions that have their headquarters and registered offices in separate cities.
Tell us about the team that will run the bank.
Most of the CXO positions have been filled and we are pleased to have attracted very good talent from the industry.
Our selection process for the CEO is going on and the PMC amalgamation scheme notification is awaited.
Once this is done, the search will intensify and close sooner rather than later.
In the meantime, we have appointed Inderjeet Camotra as interim CEO.
He is a professional banker with domestic and international banking experience.
Since you want to make it a digital bank, I guess BharatPe has to be there as a partner. Or, will you look for another investor as a replacement?
Our partnership with BharatPe is firm and good.
You got the in-principle licence in June and final licence in October last year. How has been the progress so far?
As you know, we have executed with good speed to get the bank operational on November 1 after getting the final licence in October.
The next big step is the PMC amalgamation, for which we are awaiting the final draft.
Since the PMC depositors are not happy and have been agitating, do you see any change in the final scheme? If yes, how will you meet the financial part of it?
As I have said before, the finalisation of the scheme is in the hands of the government.
All we can do is to wait for it to be notified.
The business of banking is all about trust. Has the latest episode dented that? How do you repair it? What's your message to the regulator, policy makers, depositors, borrowers, and investors?
Yes, you are absolutely right. Banking is a business of trust.
To create that, Unity SFB has a very strong board, abundant capital (Rs 1,100 crore today against the regulatory requirement of Rs 200 crore plus a commitment of additional infusion of Rs 1,900 crore), a single A credit rating, a credible promoter, and a joint investor with a deep pocket.
We intend to build on these strengths to the satisfaction of our stakeholders. And, we will do it.
Source: Read Full Article