'We want Air India to keep flying'
'Whether it is the unions or the politicians, they don't have to do politics over Air India, but be guided by a solitary factor — that we don't want Air India to fly into oblivion.'
Jitender Bhargava is a former executive director of Air India and the author of The Descent of Air India (Bloomsbury India), an excerpt from which you can read in the left link below this para.
In the wake of the government's decision this week to offload its entire stake in Air India to a buyer, Bhargava tells Prasanna D Zore/Rediff.com, "The whole of India knows what Air India's losses are, but not the assets that it owns. Air India is an operational airline with a 13 per cent market share in the domestic market and 18 per cent in the international sphere with a huge global network."
You served India's national carrier for 20 years with 13 years as its executive director. How do you look at the government's proposal to divest 100 per cent stake in the company?
I have done a whole book on it, The Descent of Air India, and I have advocated divestment of Air India because of the simple reason that under government ownership, the airline could just not survive or be revived.
Therefore, there is a need to privatise, get a commercial-minded ownership of the airlines, which has a vision and which can provide leadership and the funds to keep Air India ahead of the others.
Put conversely, with government ownership, funds will always be constrained.
Government meddling is too well known; employees's productivity is low because the government system automatically means less work.
These factors combined together makes divestment very essential.
Has it made you nostalgic given your long association with Air India?
What is nostalgia? One can recall your past days happily with good memories and recall. But you would not like to see the airline (Air India) in danger of passing into oblivion.
Nostalgia for me would mean how to ensure that the brand that you worked for flourishes in the future by ensuring that the airline grows.
And the point that I keep regularly making is that unless enough money is regularly pumped into the airline (Air India), it will not be able to grow.
You get marginalised because private airlines keep inducting more and more aircraft going forward. It's a competitive world. So, once you get marginalised or only have a market share of 7 or 8 per cent, you are reduced into irrelevance.
My definition of nostalgia is not just recalling the happy days of the past, but also envisioning a brighter future.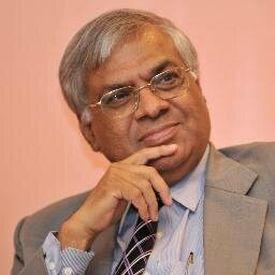 What could be the major challenges the government could face in its bid to divest 100 per cent in Air India?
There are two points to it. One, the government has learned from the past and therefore made the memorandum that they have issued (the preliminary information memorandum, PIM, which outlines the terms and conditions of the divestment), keeping attractive the factors with a potential acquirer will look at, with a rider, of course, that if there are any further changes that they (the bidders) want, the government will be willing to consider.
I deem this as a very, very positive sign. That's the first part of it.
The second part is, and this is my wish, that considering the compelling circumstances or the compelling arguments that one has for divesting Air India, the government could have created an environment where all stakeholders were fully convinced of the need to divest.
By all stakeholders, you would mean the employees and employee unions?
The employees, the unions, the politicians…
You see if people say look, it (Air India) should not be divested, then the question that arises is: What is the future that we are offering for Air India?
Can the government promise fund infusion in perpetuity? The answer is no.
Can Air India have a future with government fellowship? The answer is no.
So, one has to be pragmatic, not emotionally attached. I wish the best for the airline that I have worked for.
So whether it is the unions or the politicians, they don't have to do politics over Air India, but be guided by a solitary factor — that we want Air India to keep flying and not fly into oblivion.
Given these concerns do you foresee strong opposition from the unions representing almost 21,000 employees?
Unions can be explained to and convinced about the divestment. Unions also have genuine concerns.
Let me put it this way to you: They have genuine concerns with regard to employment, their future, their perks and retirement benefits, having worked for 20, 25 years. You can't just dump them.
The government should have logically created an environment and promised employees that their interests won't be harmed; it should have addressed their concerns, which they haven't yet.
Concrete plans should have been put forth by the employers to convince the employees why this privatisation is essential.
What value does Air India offers potential bidders?
The whole of India knows what Air India's losses are, but not the assets that it owns.
Air India offers enormous value to a potential acquirer.
It is an operational airline with 13 per cent market share in the domestic market and 18 per cent in the international sphere with a huge global network.
If an airline were to start today — like say an Indigo or Vistara — they will take a number of years and huge funds to reach Air India's present scale of operations.
So you (the potential winner of the bid) immediately catapult yourself amongst the mega carriers by acquiring Air India.
You don't have to push too hard for a global presence because Air India has slots globally; it flies worldwide — the United States, Europe, Tokyo, Australia, everywhere.
The moment you acquire an airline (Air India) and run it professionally, the gains are enormous.
People do see a lot of value in Air India.
What are the assets and liabilities that Air India has on its balance sheet?
The government has this time made it clear its intention by shifting a large chunk of its debt (Rs 30,000 crore/Rs 300 billion according to some reports) to a special purpose vehicle. This debt will not be passed on to the potential acquirer.
The remaining part (about Rs 23,000 crore/Rs 230 billion ) of the debt will have to be taken over by the acquirer, but that's logical debt.
Wouldn't this huge debt deter investors?
It will not deter and one should not read too much into it.
Air India has a huge fleet of aircraft as assets. Once you are taking the aircraft as an asset, balance payments on those aircraft will have to be paid by the person who is taking the asset.
Say, for example, you buy a car on EMI. You pay three EMIs and there are nine more to be payable. If you sell that car, which will not be the exact value you bought it for. You will say I paid three EMIs and you pay me this money and pay the remaining nine EMIs. This is a likewise situation.
You have the aircraft, you have the pilots, you have the engineers… Where do you get readymade trained pilots? Training pilots requires huge costs.
What could be the total cost for the acquirer?
I would not like to make a guess.
BJP MP Subramanian Swamy has threatened to go to court against the government for selling 'family silver'.
There are compelling reasons for divesting Air India, to ensure Air India's survival and revival.
People can have a different perspective, but the question to be asked of them is what is their knowledge and understanding of the aviation industry?
What level of stake do they have in ensuring Air India's future?
Did the government have no other option but to divest its entire stake in Air India?
Yes, because nobody will take an Air India if you don't give away the entire stake.
When you wrote The Descent of Air India in 2013, did you envisage that the situation would come to such a pass one day? Were you sure that Air India would have to be divested lock, stock and barrel?
I have written about this in the book, the last chapter that Air India must be divested at the earliest.
Would you blame Praful Patel, aviation minister in UPA I and II, for Air India's downfall?
No.
(I would blame the) government ownership which comes with a lot of inefficiencies and unproductive practices.
The kind of IAS people being appointed chairmen of Air India with no domain knowledge, the whole lot of wrong decisions, unprofessional practices and, of course, certain wrong decisions taken by Praful Patel like the merger (of Indian Airlines and Air India) and acquisition of (unwanted) aircraft by him only accentuated the descent of Air India.
During your tenure as the ED, did you get a feeling that it was possible to revive Air India?
While one was always hopeful, it wouldn't be under government ownership.
Source: Read Full Article