Activists broaden legal case against Santos for greenwashing
Activists have sharpened their world-leading case against gas producer Santos for greenwashing using company documents, including one that describes its emissions reduction claims as "speculative".
The Australasian Centre for Corporate Responsibility this week filed new allegations against Santos in the Federal Court case it started in August 2021 that claimed the gas producer had breached Australian consumer law by misleading investors about its climate credentials.
Santos CEO Kevin Gallagher controversially showcased the Moomba CCS project at the COP26 climate summit in Glasgow.Credit:Emily Macinnes
ACCR executive director Brynn O'Brien said investors were entitled to reliable, accurate representations from the companies they invested in.
"Increasingly, for emissions-exposed businesses like Santos, large claims are being made… that are material to the investment proposition… there are billions of dollars at stake," she said.
In December 2020, Santos announced an ambitious target to produce net zero emissions by 2040, a decade ahead of most of its competitors. Details on how the 2040 target could be achieved were presented to investors that day and in a climate change report two months later are the focus of the ACCR case.
O'Brien said the litigation discovery process revealed further instances where ACCR contends Santos engaged in greenwashing. The viability of carbon storage, the cost and emissions from producing so-called blue hydrogen from gas, and the use of carbon offsets are all questioned in the ACCR document filed on Thursday.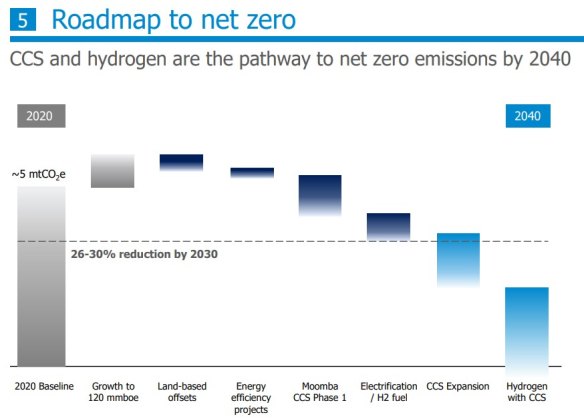 In December 2020, Santos presented carbon capture and storage and hydrogen as key to achieving net-zero emissions. Credit:Santos
Most emission reductions in the Santos plan came from making hydrogen from gas and capturing and storing the carbon dioxide produced in the process (CCS), often referred to as blue hydrogen.
Santos said in its 2021 climate change report that studies had shown it could produce this "low-cost zero-emission hydrogen" for $2 a kilogram by 2030.
However, according to ACCR's filing, Santos internal documents said hydrogen could only be produced at that price if the gas used cost about $4 a kilogram, and Santos did not "have a line of sight" to such a cheap supply, and the product would not be zero emissions.
The filing said Santos also assumed it could sell blue hydrogen and claim offsets for reducing its customer's emissions. This would likely be double counting of emissions savings.
Other Santos documents described some claimed emission reductions as "speculative", "nominal" and "notional". The ACCR filing quoted a document that described the significant contribution of "CCS expansion" to emissions reduction in the Santos plan as "a nominal number making up the difference" to achieve net-zero emissions.
Santos assumed it could fill natural gas pipelines with up to 50 per cent hydrogen when it had no reasonable basis for assuming more than 10 per cent, according to the filing.
Santos declined to respond to questions.
No court date has been set but a hearing in the first half of 2023 is expected.
O'Brien said companies had to be scrupulously accurate in the claims they made to the market.
"When the law does catch up, there may be a wave of enforcement action that occurs, and you don't want to be on the wrong side of it," she said.
The law appears to be ready to move. On Tuesday, Australian Securities and Investments Commission chair Joseph Longo said, internationally, regulators were sharpening their focus on climate change.
"If you make net-zero claims, you must have substance behind those claims," he said. "Aspiration on its own is not enough – the bar is set much higher."
Longo told The Australian Financial Review that ASIC was already investigating one publicly listed company for greenwashing.
The Business Briefing newsletter delivers major stories, exclusive coverage and expert opinion. Sign up to get it every weekday morning.
Most Viewed in Business
From our partners
Source: Read Full Article