Disney CEO Bob Iger gets personal
New York (CNN Business)Bob Iger's tenure as the CEO of Disney (DIS) has been marked by a series of epic achievements.
The decision to acquire Marvel, Pixar and Lucasfilm helped Disney (DIS) shatter records at the box office. He oversaw the expansion of theme parks in Asia and unveiled Galaxy's Edge earlier this year at Disneyland in California. Under his leadership, 21st Century Fox came into Disney's fold, resulting in a whole new roster of intellectual properties for the nearly 100-year-old company.
And soon, Iger will take on Netflix (NFLX) with the launch of Disney+, a streaming service with its own slate of exclusive offerings.
It seems like success has come easy for Iger, but his long climb to the top was far from a straight shot and he credits a number of "very generous people" for helping him get there.
"It's an extraordinary experience to have to work for people who are considered the best in the business at what you know, at what they specifically did in the business and that's incredibly good fortune on my part," Iger said. "It wasn't planned, it's just good luck."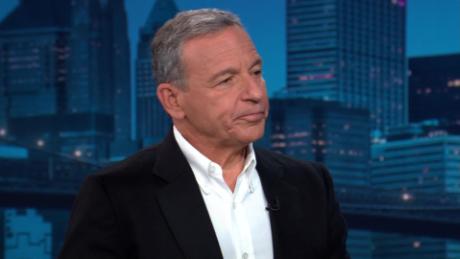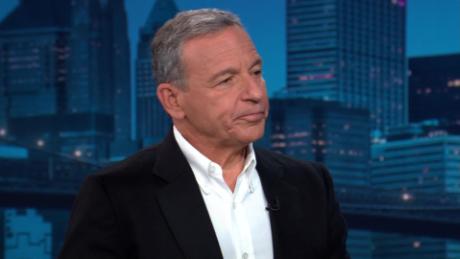 JUST WATCHED

Bob Iger on Disney Plus: 'There's nothing like it'
MUST WATCH
Iger, 68, was referencing four specific figures who loomed large over his 45-year career: Legendary ABC executives Roone Arledge, Tom Murphy and Dan Burke and Iger's predecessor at Disney, Michael Eisner.
Iger sat down with CNN's Christiane Amanpour recently for a wide-ranging interview about his new memoir "The Ride of a Lifetime: Lessons Learned from 15 Years as CEO of the Walt Disney Company." He opened up about his childhood and talked about his father's struggles with mental health issues and how they affected him in "profound ways."
"Even with all of his trouble, he believed in his son," Iger told Amanpour. "I don't know what it was that he saw in me but he believed in me. And I don't think you can really believe in yourself until someone else believes that there is value within you."
He said his father's manic depression taught him to "be resilient and to understand that there was an unpredictable situation right there in my own home and to learn how to cope with that."
It seems like Iger carried this lesson with him throughout his career. After failing as a weatherman at a local TV station in New York, Iger ended up in production at ABC where he met mentors like Arledge, Burke, and Murphy.
"He just took the time, made sure when he sat with you, he wasn't distracted," Iger said about Burke. "Now that's before mobile devices and email and so maybe it was easier but he was just a wonderfully generous man. And Tom Murphy too. They were such highly-principled people."
Before Iger took over for Eisner in 2005, the Magic Kingdom was running low on magic. Disney's stock was down and Iger said the board was desperate for change. Board members at first didn't think Iger was the right person for the job and they believed they needed to "go outside the company" to fill the CEO role. Iger had been president and COO of Disney for five years at the time and he "did not in any way represent change."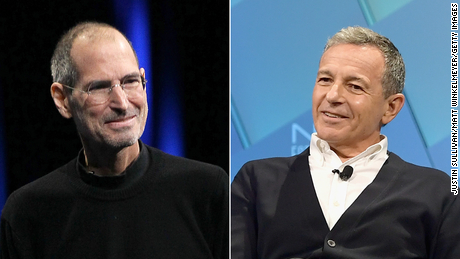 "But they — fortunately for me — they decided that they should consider me as the inside candidate and that led to 15 interviews, which is how long it took me to convince them that, even though I was an insider, that I could bring change to the company," Iger said.
According to Iger, his relationship with Eisner was fraught at times, but he said "as I think about Michael I think actually, quite positively" about him. Iger credits Eisner with "re-creating" Disney when he became CEO in the 80s.
"I learned tremendous amounts from him, about creativity, particularly multi-disciplined creativity, about theme park creativity, and movie creativity," Iger said. "I was a TV person. And he had incredible guts, he did big things. That's something that I believe in as well."
This belief became apparent when it was Iger's turn to do big things. After years of churning out hits like "The Little Mermaid," "The Lion King," "Beauty and the Beast" and "Aladdin," Disney's animation unit produced a string of expensive bombs like "Hercules," "Atlantis" and "Chicken Little," to name a few.
"That great era had been over for a while and we hadn't been able to find ourselves, so I knew when I got the job, that if I had one priority in terms of business performance or creative performance, it was Disney animation," Iger told Amanpour.
Iger said he "quickly discovered that the right people were at Pixar," the acclaimed animation studio behind the groundbreaking "Toy Story" franchise that was chaired by Steve Jobs.
When Iger became CEO, he took it upon himself to repair Disney's relationship with Jobs, which was broken at the time because "he had had a tough relationship" with the company when Eisner was at the helm.
When Iger successfully closed a deal in five days to have Disney and ABC programs available on Apple iTunes for download on iPods, he said Jobs "looked at me differently than he had before."
Iger said the deal gave him the confidence to propose to Jobs the "crazy idea" of Disney buying Pixar.
"And the rest is history," Iger said.
Now Iger is entering the twilight of his career as he plans to step down as CEO in 2021. Launching Disney+ will be one of Iger's final acts.
"There's nothing like it out there. It's an incredibly compelling proposition for consumers," Iger said of the service.
Source: Read Full Article