For coronavirus relief, Trump demands Congress increase direct payments to Americans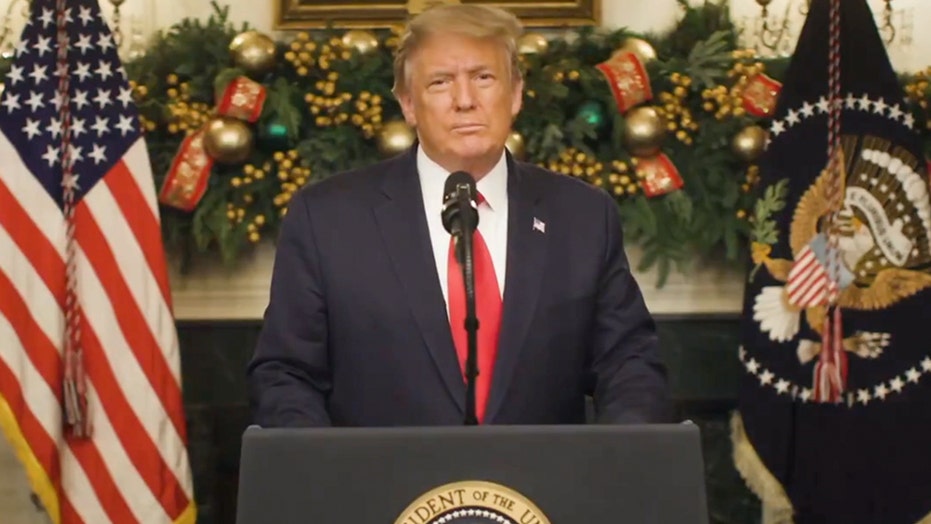 Trump asks Congress to amend COVID aid bill to increase payouts
President calls for payments to be increased to $2,000 per person or $4,000 per couple
President Trump slammed the recently passed $900 billion COVID-19 relief package as a "disgrace" on Tuesday evening, urging Congress to amend the bill and increase the amount of money in direct payments to Americans.
"I am asking Congress to amend this bill and increase the ridiculously low $600 to $2,000, or $4,000 for a couple," Trump said in a video posted to Twitter.
TEXAS REPUBLICAN: PROCESS ON COROANVIRUS RELIEF BILL WAS DISGRACE TO TAXPAYERS
Trump argued that the relief bill in its current form, which is included with $1.4 trillion in omnibus spending, has "almost nothing to do with COVID."
"Congress found plenty of money for foreign countries, lobbyists and special interests while sending the bare minimum to the American people who need it," Trump said.
He noted that small businesses, particularly restaurants, have not been given enough money after their owners have "suffered so grievously."
"They were only given a deduction for others to use in business, their restaurant, for two years," Trump added. "This two year period must be withdrawn, which will allow the owners to obtain financing and get their restaurants back in condition. Congress can terminate it at a much later date, but two years is not acceptable it's not enough."
The package includes increased jobless benefits, another round of funding for the Paycheck Protection Program for small business loans, a direct payment of $600 to individuals, and funds to help distribute COVID-19 vaccines.
CLICK HERE TO GET THE FOX NEWS APP
The president warned that if the "wasteful and unnecessary items" are not removed from the legislation, the next administration will have to deliver a COVID-19 relief package.
"Maybe that administration will be me," Trump added. "And we will get it done."
House Speaker Nancy Pelosi, Senate Majority Leader Mitch McConnell and House Minority Leader Kevin McCarthy did not immediately return Fox News' requests for comment.
This is a developing story. Check back for updates. 
Source: Read Full Article