Intelligence expert weighs in on what a spy could gather by lurking on Facebook friends lists
Hoffman: US 'under siege' from China, on verge of latter-day Cold War
Former CIA station chief discusses Beijing's plans for global domination on 'Outnumbered Overtime'
Christine Fang, or Fang Fang, a suspected spy whose reported mission was to network with and befriend up-and-coming American officials on behalf of China, remained Facebook "friends" with a number of her lesser targets for years after her cover was blown and she left the country in 2015.
Continue Reading Below
Among her most high-profile targets was Rep. Eric Swalwell, who cut ties with her after the FBI briefed him on her activities, also in 2015. But his father and brother were among dozens of people who remained on her Facebook friends list until this week.
While it's unclear whether she continued to maintain the account herself or if her victims even realized they were possibly being spied upon, China likely was monitoring the feed to mine potentially useful information, experts believe.
"Information doesn't have to be classified to be really valuable," Daniel Hoffman, a retired CIA senior clandestine services officer, said Thursday. "So somebody's Facebook page has a lot of personal information."
SWALWELL'S DAD, BROTHER NO LONGER FACEBOOK FRIENDS WITH CHINESE SPY AFTER REPORTS ON CONTINUED TIES
He suggested looking at your own Facebook for an example of what someone snooping could find.
To see what your account looks like from a stranger's perspective on a desktop computer, you can navigate to your profile and click the eye-shaped "View As" icon beneath the right corner of your cover photo.
"Think about how valuable that would be to understand what makes you tick – pictures of your family, where you go, what you do, your vacationing, you could do a whole assessment of somebody based on that," Hoffman said.
Furthermore, he said, China's intelligence agency could engineer bots to run accounts, fooling victims into believing they're in touch with real people.
"This would be Chinese intelligence with the spigot running from Facebook," he said. "Valuable."
Fang's methods are nothing new from China's intelligence apparatus, according to U.S. intelligence officials. She arrived at California State University, East Bay, in 2011 and used student extracurricular events to network with key figures, according to an Axios report published earlier this week.
FBI STEPPED IN AFTER SUSPECTED CHINESE SPY GOT CLOSE TO SWALWELL, OTHER POLITICIANS, REPORT FINDS
Fang's cover as an exchange student allowed her to "hide in plain sight," Hoffman said, and by networking with the right officials, she could use those ties to meet more.
She became president of the CSUEB's Chinese Student Association, a now-defunct club at the school. Photographs from some of its events show Swalwell and other notable guests in attendance. The university even noted a woman named Fang Fang was a club member when it recognized her with its annual "Pioneer Pride Award" in the 2012-2013 school year.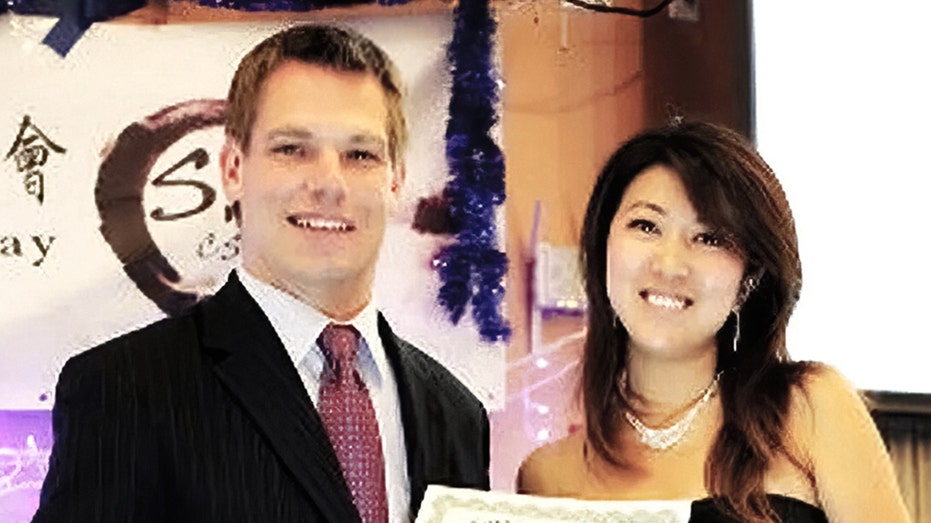 At least 10 people who appeared on Fang's friends list Wednesday were no longer there Thursday evening, including Swalwell's brother and father and two California mayors. Some of the people still listed claim to work at CSUEB on their profiles. The school did not immediately respond to a request for comment.

CHINA'S EXTENSIVE 'HONEY TRAP' SPY NETWORK COULD INVOLVE THOUSANDS OF PLOYS UNDERWAY NOW, EX-OPERATIVE SAYS

Hoffman said the congressman should have addressed the issue head on back in 2015 rather than keeping mum.

"Delaying until now makes no sense to me," Hoffman said. "It was over in 2015. Rep. Swalwell should've said, 'Hey everybody I've got a story to tell you, and this shows you how dangerous China is. Look what happened to me.'"

Some congressional Republicans, including Sen. Tom Cotton and House Minority Leader Kevin McCarthy, have called for Swalwell to be removed from his position on the House Intelligence Committee due to the incident.

RICK SCOTT RIPS SWALWELL OVER SUSPECTED CHINA SPY, CALLS FOR REMOVAL FROM HOUSE INTELLIGENCE COMMITTEE

Hoffman said he disagreed with that view and that because the FBI didn't suspect her of stealing any classified information and that since Swalwell is not accused of any wrongdoing, "he's got nothing to worry about" and should use the incident to raise awareness about China's spying behavior.

"Share the story," he said. "And let us all understand what's going on so that we don't continue to be targeted. We're easy marks."

He said the incident should be used as a public service announcement to "shore up our defenses" and warn state and local officials that they may be targeted.

"I'm pretty sure Christine Fang is not the only Chinese deep cover intelligence officer seeking out contacts, even romantic contact with U.S. politicians," he said. "I'm sure there's more of them. So delaying until now makes no sense to me."

In addition to networking with Swalwell and other California officials, she also reportedly carried on sexual relationships with at least two Midwestern mayors.

CLICK HERE TO READ MORE ON FOX BUSINESS

Other current and former officials in both parties have also raised flags about China's espionage efforts.

"China has an increasingly assertive global influence strategy, and it should be no surprise that Beijing's intelligence service have attempted to influence American government at all levels," said Sen. Mark Warner, vice chairman of the Senate Intelligence Committee. "It's not new that the CCP (Chinese Communist Party) seeks to identify and cultivate rising politicians and pressure political figures it views as opposed to China's interests."

Much of that activity is taking place on college campuses, which Secretary of State Mike Pompeo said "present easy targets for anti-American messaging" during a speech at Georgia Tech Thursday.

Source: Read Full Article