This Mercedes-Benz concept car has no steering wheel
An SUV might look like a great way to escape the grind of city life, but it will be pretty uncomfortable to sleep in. That's why Mercedes-Benz has unveiled the Weekender, a classic style pop-up camper van that sleeps four.
The Weekender is based on Mercedes' mid-sized Metris van, which is about the length of a minivan. In the Weekender, the back seats can fold down to sleep two people, while two more can lie down in a tent-like area that extends out from the roof. The little rooftop bedroom is equipped with a foam mattress and USB ports to power lights and charge electronics. The van also has a separate battery to power lights and devices.
When raised into their seating position, the back seats can move back and forth on rails to create more passenger space or cargo room. Meanwhile, the front seats can rotate 180 degrees to face the back, creating a conversation space when the van is parked.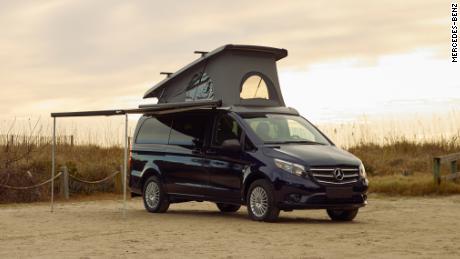 The Weekender will have an optional pullout kitchen in the rear and a large, roll-out awning to provide a shaded sitting area outside.
Unlike some large RVs, the Weekender will not have a bathroom or shower. Many of those RVs are built from Mercedes Sprinter vans and include plumbing and other features that are added by companies such as Airstream. The Weekender, by contrast, is a simple camper van like the Volkswagen bus campers from the 1960s and '70s.
"Pop up campers are iconic and highly functional vehicles," Robert Veit, managing director of Mercedes-Benz USA Vans, said in a statement. "We have known for a long time that this market need was unmet as evidenced by the high demand for aging existing camper vans still on the road."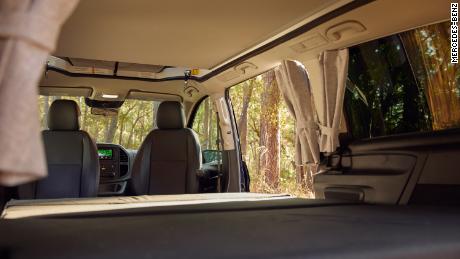 Mercedes sells a product like the Weekender in Europe called the Marco Polo, but this is the first time the company has offered something like it in the US.
The Weekender is created from Metris vans that are assembled in Spain. An Ohio-based company called Driverge Vehicle Innovations turns them into campers in a facility in South Carolina. Seattle-based Peace Vans, which has already been selling its own converted Metris vans, also worked with Mercedes on designing the Weekender.
Customers will be able to order the Weekender from Mercedes dealers starting in the spring. Pricing will start in the low $70,000 range, a Mercedes spokeswoman said.
Source: Read Full Article